Two new federal policies tying Medicare reimbursements to quality of care took effect in October 2012. Hospitals are now penalized for excess readmissions. An additional penalty or bonus can be awarded, based on adherence to clinical standards and ratings on patient surveys.
Hospitals that serve the city's poor−public hospitals and private safety-net hospitals−generally face heavier penalties than other hospitals. Penalties for 8 out of 12 public hospitals and 4 out of 6 safety-net hospitals exceed the citywide average of 0.97 percent of reimbursements.
Medicare accounts for $777 million of expected inpatient revenues in 2013 at Health & Hospitals Corporation facilities, about 30 percent of all anticipated inpatient revenues, ranging from $21 million at North Central Bronx Hospital to $112 million at Bellevue.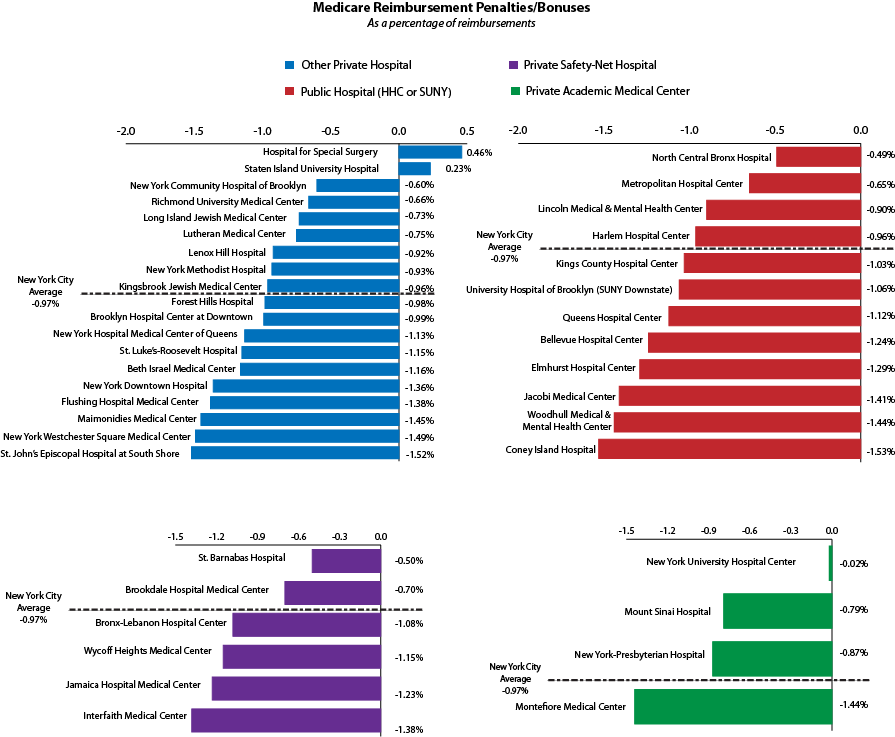 SOURCES: United Hospital Fund; U.S. Centers for Medicare & Medicaid Services
NOTES: Some hospitals have more than one campus, but penalties/bonuses are systemwide. Private safety-net hospitals, as defined by the United Hospital Fund (UHF), are those where Medicaid and uninsured patients comprised more than 50 percent of admissions, other than births, in 2008.
Prepared by Christina Fiorentini
New York City Independent Budget Office
PDF version here.