In January 2013 there were 11,249 working payphones in public locations citywide, a decline of almost
50 percent since 2008.
The Bronx, Brooklyn, and Staten Island have seen decreases of about 60 percent.
The number of payphones has fallen 33 percent in Manhattan and 52 percent in Queens.
_______________________________________________________________________
The city collects 10 percent of revenue from calls placed from payphones and 36 percent of revenue from advertisements on the payphones.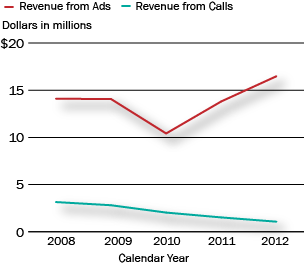 City revenue from calls has declined steadily since 2008.
City revenue from advertising has increased sharply since 2010.
SOURCE: Department of Information Technology and Telelcommunications
Prepared by Nashla Salas
New York City Independent Budget Office
Print version available here.