Citywide, the average high school student's commute to school—by subway, bus, or foot—in school year 2011-2012 was estimated to take 32 minutes. In comparison, the commutes for city residents to jobs in the five boroughs averaged 39 minutes in 2012.
More than 1 in 5 high school students had commutes of 45 minutes or longer.
There was significant variation across census tracts in the share of students with longer commutes, reflecting both access to transit and school choice preferences.
The city's Department of Education allows "hardship transfers" for high school students with commutes of more than 75 minutes. Less than 3 percent of high school students had commutes that long in school year 2011-2012.
The Geography of Student Commutes Longer Than 45 Minutes to School, School Year 2011-2012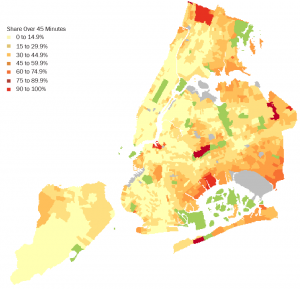 Prepared by Asa Wilks
New York City Independent Budget Office
SOURCES: IBO analysis of Department of Education Data, American Community Survey
NOTES: Calculations based on GoogleMaps estimate of trip times as of January and February 2014 between each student's home and school address. Calculations reflect commuting time during business hours for students attending New York City high schools during the 2011-2012 school year. Trip duration includes walking time.
Print version available here.