Posted by Doug Turetsky, July 24, 2012
Are cities and states around the U.S. undergoing a surge in hiring? That was the finding of a USA Today news story earlier this month, which noted that hiring by cities, states, and local school districts during the first four months of 2012 was 20 percent above the rate for the same period last year. This hiring comes in the wake of steep recession-related government job cuts. A just-released report by the Volcker/Ravitch Task Force on state budgets found that state and local governments slashed employment far more than in previous recessions.

While New York City government is certainly doing some hiring, don't expect a rise in the number of municipal workers anytime soon—at least not based the budget that was recently adopted for fiscal year 2013, which began on July 1. Based on the budget for 2013, the city workforce will decline by 1,697 this year and total 294,961 by June 30, 2013 (including the number of hours worked by part-timers calculated to add up to an equivalent number of full-time positions). That's down from 311,018 in June 2008, just as the recession began to squeeze city tax receipts. The decline has occurred through a combination of layoffs and attrition—not rehiring if a position becomes vacant due to an event such as retirement or resignation.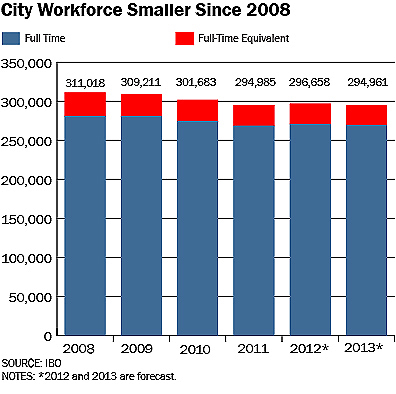 Proposed staffing cuts played a relatively small role in the recent round of budget debates. That's far different from last year, when wrangling over the Mayor's proposed budget for 2012 was largely dominated by his proposal to lay off nearly 4,300 teachers and not replace about 1,900 other teachers who were expected to leave the school system. Although the teacher layoffs were averted in negotiations with the City Council, other layoffs have occurred in the wake of the recession.

Determining the number of city workers that have been laid off is difficult because not every employee is in the city's main payroll database. For example, Department of Education administrators and, as of a few weeks ago, custodians are in the main database. Other education department employees, such as the 672 school aides laid off last year, are in a separate database.
A review of the city's main payroll database by IBO labor analyst Martin Davis identified a total of 2,031 layoffs among regular full-time and part-time city workers from fiscal year 2009 through May 2012. Most of the layoffs in the database we reviewed were concentrated in just a few agencies, and nearly half occurred in 2010 when there were 940.
Besides the Department of Education school aide layoffs, the Administration for Children's Services accounted for the most layoffs we were able to identify in the 2009-2012 period, with 598. Well more than half of these occurred in 2010.There were 509 layoffs among staff identified as administrators at the Department of Education over the same four-year period. The Department of Health and Mental Hygiene's layoff total was next at 296.
The Mayor's initial budget proposals for the current fiscal year projected far fewer layoffs than his 2012 proposals. And more than half of the projected layoffs for 2013 were not actually of municipal employees but rather the result of anticipated cuts in the city subsidy to libraries and cultural organizations—cuts that were ultimately reversed in the most recent budget deal with the City Council.

Among the comparatively small number of layoffs that are included in the budget adopted last month are staff cuts at the Department of Transportation as the city makes the shift from single-space parking meters to Muni Meters. The declining number of layoffs here mirrors a national trend found in an April 2012 survey by the Center for State & Local Government Excellence. Twenty-eight percent of responding governments said they had undertaken layoffs this year compared with 40 percent the year before. At least in the short term, layoffs may increasingly have more to do with changes in staffing needs than fiscal needs.