Overall, average per pupil budgets dipped slightly in school year 2011-2012 but have grown since then.
Average per pupil budgets rose more rapidly for high schools than for elementary and middle school schools both in absolute and percentage terms.
Elementary schools have the highest per pupil budgets on average.
In each of the years, about 60 percent of the per pupil allocation went to teacher salaries.
How Much Did the Change in Per Pupil Budgets Vary Among Schools Since 2010-2011?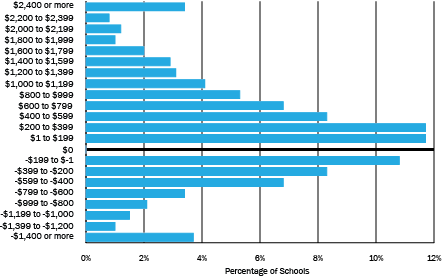 About 23 percent of schools experienced an increase between $1 and $400 per pupil while about 19 percent of schools experienced a similar decline.
The majority of schools have not experienced an increase or decrease in budgets greater than $600 per pupil.
The largest changes in per pupil budgets are associated with unusually large changes in enrollment.
Prepared by Gretchen Johnson
New York City Independent Budget Office
SOURCE: IBO analysis of end of October Department of Education budget data.
NOTES: Both charts exclude budgets for schools not open in all years, schools phasing out or experiencing grade truncation during these years, as well as Districts 75 (special education) and 79 (alternative schools). Figures in top panel are weighted by projected enrollments.
Print version available here.